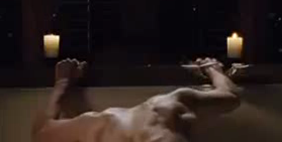 Apparently there has been some doubt expressed online that the body we see breaking the headboard in the trailer belongs to Robert Pattinson. There were claims that a body double was in use.
Gossip Cop got on the case and has this to report:
"Gossip Cop looked into the story and was told by a production source that it was 100 percent Pattinson in the sex scene with Kristen Stewart.
Additionally, a rep for Summit tells us, "A body double was NOT used."
So, in short, everything is the real deal. Feel free to continue your ogling 🙂