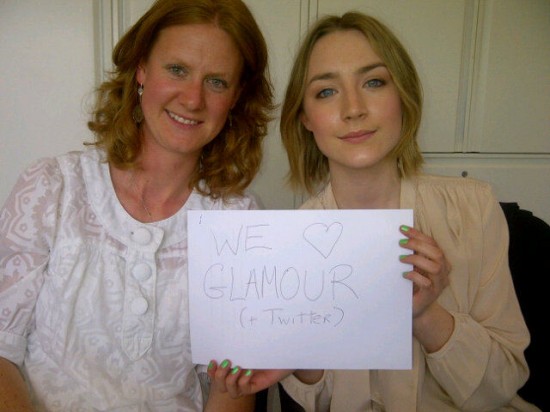 We have to give kudos to TwiMoms for figuring this one out and jumping on it. Saoirse Ronan did a Twitter chat with Glamour UK starting at around 9:00am eastern time when many US fans were not up or not near computers.  Here are questions that TM's asked and us asked trying to get some Host type info out of Saoirse. We will update this post with more info as the chat progresses.
Question from  @TwilightMOMS What do you think of playing Melanie & Wanderer from The Host?
Answer Saoirse: I'd love to be involved. Let's hope.
Question @TwilightLexicon: What do you like about roles that are more physical like Hanna and Ember?
Answer: It makes me feel better about not exercising between roles.
Question Unknown Account: What did the cast do to get into the mindset of living rough (on Hanna)?
Answer: We trained in the wilderness in -30. That was rough enough.
Question Unknown Account (important because this would have been a HUGE conflict and was still listed on the IMDB): Are you doing The Hobbit?
Answer: I've been asked about doing The Hobbit- unfortunately I won't be able to do it. It breaks my heart. I love Bilbo & NZ.
You can follow Saoirse Ronan on Twitter here http://twitter.com/#!/saoirse_ronan she confirmed that this was actually her account during the last moments of the chat.