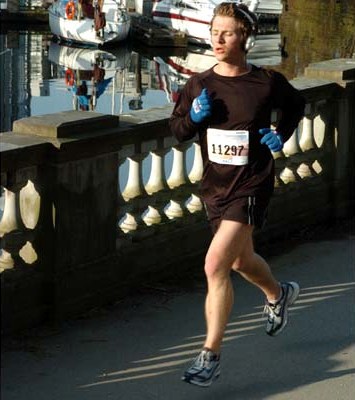 We've been telling you about Charlie Bewley running an ultra marathon to raise money to fight cancer. The Vancouver Sun covered the race that took place on Sunday:
"Actor Charlie Bewley, who raised $20,000 by running in the Bank of Montreal Vancouver marathon Sunday morning, had tears in his eyes as he crossed the finish line, a marathon spokeswoman said.
Deirdre Rowland said the funds raised by Bewley will go to the hospital that helped care for his friend Jocelyn Clarke, a local stunt double, who died of cancer in February.
The money raised by Bewley, who plays the vampire Demetri in the Twilight movie series, will go to the Lions Gate Hospital Foundation.
The marathon raises an estimated $40,000 a year for five different charities."
See more on the Vancouver Sun.
Lexicon reader Pam tracked down Charlie's exact times from the marathon's official site (TY to Pam)
final place:  1515   middle of the list after running the half marathon first
place in division:  146/233
gun time: 4:12:45
chip time: 4:03:50
km pace: 5:47
On behalf of the Lexicon staff a special thank you to anyone who contributed.