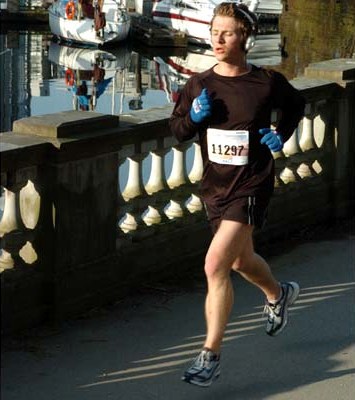 We've been telling you about Charlie Bewley running an ultra marathon to raise money for cancer research in memory of a departed friend. The Vancouver Sun interviewed Charlie as he makes final preparations to run this Sunday.
"Of course, he could have chosen to run just the marathon or the half marathon but he has opted to do both, which will add up to 63.3 kilometres. It's the farthest he has ever run. "It's something I'm not quite sure of. It's a very dark place."
He is looking forward to the challenge.
If his friend Clarke could live full throttle to the very end without flinching, he can run headlong into the biggest challenge of his running career.
"The reason I decided to run a larger marathon is I just don't think a marathon is that difficult. I would run it very, very easily, not as if my life depended on it. I preferred to do something I didn't know I could do."
See more on the Vancouver Sun
Charlie is another actor that we have gotten to know during Creation Entertainment's Official Twilight Convention. We really respect that he it totally putting himself out their to raise awareness and money. If you are able, please consider donating to this cause.