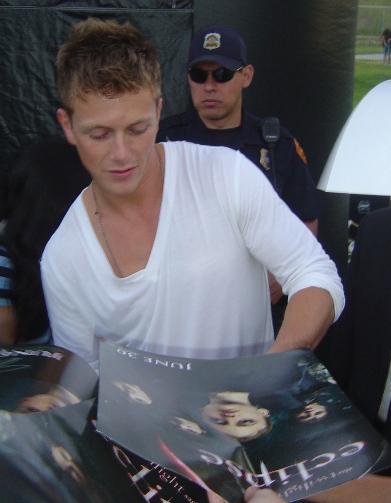 USA Weekend interviewed Bill Tangradi and Charlie Bewley at the Creation Entertainment Official Twilight Convention in Virginia. They talked about everything from meeting fans, to getting involved in a large franchise film, to Rob and Kristen:
"So there I was hanging out with some of the cast of Twilight. I had to ask what Pattinson was like in real life. And the guys ran with that one.
"He's really dreamy," Tangradi quips.
"He moonwalks on water on one foot," Bewley jokes. "Can you imagine?"
Then they got serious.
"I found Rob to be really charming," Tangradi says. "I didn't have too many encounters with him because I left him alone. He was really self-deprecating and giggly. He laughs a lot under his breathe."
"Unfortunately, he's in this position where he has to entertain everyone around him all the time," adds Bewley, who has gotten to work with him a lot longer. "He takes that burden on him and I've seen it kind of progress, from the first time I chatted with – him being like, 'What is this thing around me? This is so ridiculous. I just want to go home and make music' – to where he is now. He's a stand-up guy and he's completely comfortable in his surroundings wherever that might be."
And where you have Rob, you have Kristen Stewart, who plays Bella, Pattinson's on-screen love interest — and reportedly off-screen as well.
"I've always found her kind of endearing," Bewley says. "Her awkwardness is wonderful."
See more on USA Weekend, and don't forget to check out the Creation Entertainment Official Twilight Convention.