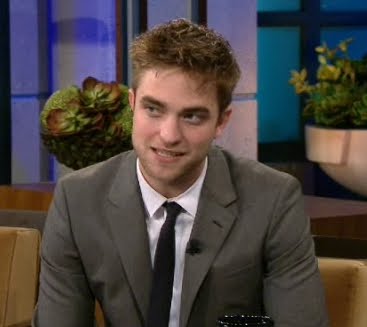 As part of their coverage for Water For Elephants, the Sun Times talked to Robert Pattinson on the end of an era.
"So much for immortality. Vampire Edward Cullen is gone. The fanged teeth have been put into storage. The glittering makeup has hit the Hefty bag. Bring on the sunlight.
By the time you're reading this article, Robert Pattinson will have wrapped his final scene for "Breaking Dawn: Part 2."
In a way, he's breaking up with his ethereal BFF.
"It does feel like a breakup. I do love the guy — and I'm going to miss him," Pattinson, 24, says during an interview with the Sun-Times on a cool Sunday afternoon from his hotel suite in Santa Monica, Calif. "I prefer to think of ending this franchise like leaving school. It's the last day of high school."
He mulls over the plusses of leaving behind his romantic alter ego.
"I'll be very glad not to put those contacts in anymore or have to put on the sparkling makeup," he says with a giggle.
The thing about Pattinson is, he likes to giggle. A lot. Then his voice softens.
"It's been amazing to play the same character through so many adventures. And it's so strange because my life has changed so much over these years, but 'Twilight' and Edward Cullen will always be a part of me. It's been my whole life. My whole 20s," he says. "And I wouldn't have it any other way."
See more on the Sun Times