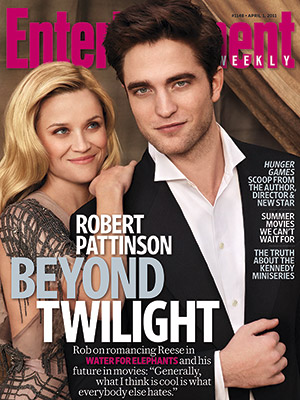 According to Entertainment Weekly:
"Twilight-fans, take heart: Robert Pattinson is every bit as good-looking and thick-maned as he appears onscreen. But don't confuse him with his brooding characters — the 24-year-old actor is surprisingly open, chatty, and quick to laugh. Pattinson talked with EW last week about his upcoming film Water for Elephants (in theaters April 22), in which he plays a traveling-circus veterinarian who falls for the show's star attraction, played by Reese Witherspoon. He also discussed what his future might look like once he's finished with Twilight. "You can never really predict what an audience wants or how to maintain a career," he says, "other than doing what you think is cool." But, Pattinson laughs, "Generally, what I think is cool is what everyone else hates.""
USA Today also has a quote from the same issue:
"Pattinson confirms he and Stewart have filmed the birth scene, and with a laugh, says the shooting was "kind of hilarious."
He explains: "She has to have this pregnant suit on all the time, that was probably more annoying for her," he said. That's not the only change you'll see in Bella.
"I can't give too much away but there's some bits, especially towards the end of the movie, she's just like the polar opposite of any of the other (films)," he says. "I mean, she's a different person, which is cool. She looks completely different. She looks probably the most convincing vampire out of all of us."
Meaning what, exactly? "A lot of us look like we're just from Mars," said Pattinson. "She's kind of the smallest one, but she suits being a vampire."
Next up: Breaking Dawn's wedding shoot, scheduled for April. "That's a hard scene too," he told us. Not to mention the flood of paparazzi who will try to get a shot of Bella and Edward headed down the aisle. "It's been OK in Vancouver in terms of people showing up and trying to get stuff," says Rob. "I have a feeling the wedding is going to be the one with (paparazzi) parasailing in." Talk about a money shot."