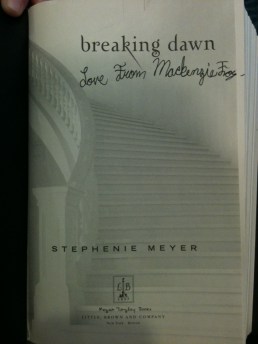 The Breaking Dawn Cast started to arrive in Vancouver over the weekend. According to People:
"The cast of Twilight is once again converging on the Canadian city, this time to film the Breaking Dawn films, with Robert Pattinson and Kristen Stewart arriving together on Monday…Three other cast members arrived Sunday night on the same flight – Mia Maestro, who plays the vampire Carmen; Myanna Buring, who plays Tanya; and Mackenzie Foy, the 10-year-old newcomer who plays the daughter of Edward and Bella Cullen.
More arrivals are expected as the week goes on."
One reporter new to the Vancouver scene, who is a Twilight fan, asked MacKenzie Foy for her autograph(seen left video below).  You have to love the newbieness of this particular reporter who seemed stunned that her encounter would end up on a fansite after she Tweeted about it using a Breaking Dawn hash tag on Twitter.  Tweeting with regulars who cover Vancouver  and using a Breaking Dawn hash tag wasn't exactly low profile. It's sort of like running into the middle of Times Square waving a huge "I love Twilight banner" and screaming "I'm here" into a megaphone and then expecting no one to notice…subtle it's not. She just started a new blog about her relatively new career. Check it out here.
There's also a video of her encounter. MacKenzie's mom was there as well as security and they didn't seem to mind the video camera so we are posting the footage.