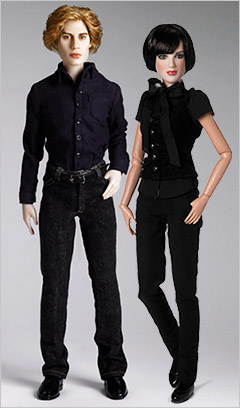 Entertainment Weekly was at the annual Toy Fair in New York City and what did they stumble upon? A Jasper doll by Tonner.
"Toys, toys, toys everywhere! This year's Toy Fair kicked off yesterday, introducing a gaggle of action figures built around new movie franchises, upcoming videogames, and attractive vampire teenagers. Tons of photos from the event have shown up online, but I'd like to direct your attention to freakishly real-looking toys in particular. The "Jasper" figure (see left) from Twilight perfectly captures Jackson Rathbone's elfen cheekbones — parents of 9-year-old girls, I present you with the only birthday present your daughter will really want this year."
Tonner currently has several Bella and Edward models, Alice, Victoria, James, Laurent, and Jacob. Check out the collection on the Tonner website.