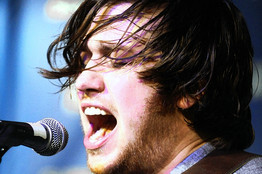 Back when Twilight was the little indie movie that could, back in the day when Summit didn't realize what they had, and the media, save for MTV, was largely ignorant to the franchise, director Catherine Hardwicke chose songs written by Robert Pattinson's friends: Bobby Long, Sam Bradley, and Marcus Foster to appear in the movie.
Bobby Long has just released an album, but he's not relying on that Never Think Let Me Sign feel as the Wall Street Journal found out:
"While Bobby Long was at university in London, he fell in with a group of musicians that included Robert Pattinson, future star of the "Twilight" films. "Let Me Sign," a song Mr. Long co-wrote and said he performed only once in public, was sung by Mr. Pattinson in the first "Twilight" installment with all the intensity of Van Morrison's "Astral Weeks."
There are worse ways to launch your career, but Mr. Long all but disavows the song. "It's not really who I am and what I'm doing now," he said when we met one recent frigid morning at the Cake Shop, a club here on the Lower East Side a short walk from his apartment."
See the whole story on the Wall Street Journal.