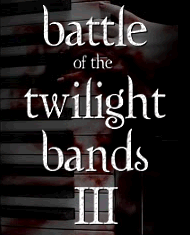 The folks over at Edward's Meadow sent us the following press release:
Hey everyone!
Just a quick update on our Battle of the Twilight Bands, the results are in from the 2 week poll, and we have announced the top 5 song entries, which will be moving on to the final judging round! The songs are…
"The Best Part of Me" by Zenith
"Breaking Dawn (In Our Reach)" by Crystal Newman
"Can't Touch You" by Jenn Franklin
"Closer" by Jacqui Ryan
"Loser" by Sstaria
Here's how the judging will work. Each member of the Edward's Meadow staff will give each of the five songs listed above a rating between 1-10. Then the ratings will be added up. The song with the most points wins 1st place, the song with the second most amount of points wins 2nd place, etc. The winners will be announced on February 3rd.
Head over to Edward's Meadow to vote for your favorite!