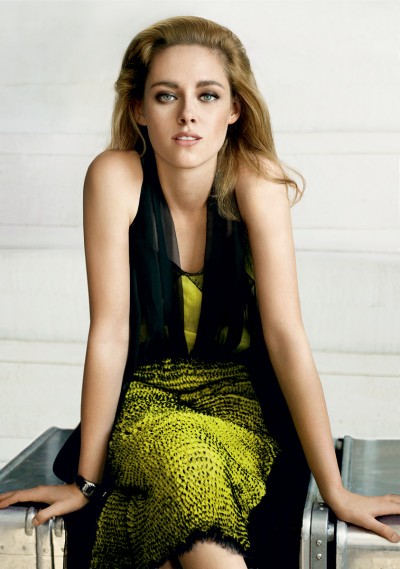 News of this being on newsstands came out this week. Vogue has now put the information online.
"Kristen Stewart's body can tell a million stories. Kinetic, she jiggles, feints, and darts as she talks, hanging back, looking off to the side, signaling resistance, a combative intelligence. "The word I always use for her is vulpine," says Jake Scott, who recently directed her in Welcome to the Rileys, in which she plays a teenage runaway and lap dancer. "Foxlike. She's got that way of moving and being that you often find in her performances, a sort of wiliness."
In other words, Stewart projects the kind of wary, rebellious edge that is so much more typical of her age group—she is 20—than gleeful high spirits, which is probably one reason she is head and shoulders above her peers in Hollywood's power pyramid, and a director's darling. Scott heard about her from his friend Sean Penn after Penn cast her as the unmoored daughter of hippie parents in the memorable Into the Wild. "Sean said, 'You've gotta see this kid,' " Scott recalls. " 'She's just so alive!' " For Bill Condon, currently ensconced in a year's worth of filming for Breaking Dawn, the two-part finale of the mighty Twilight Saga, "Kristen was at the top of my list of reasons to do this movie."
You can read the full article here.
Video of shoot here
You can find the photos that made teh magazine print copy here.
You can find outtake photos here.
Kristen's famous tortilla soup recipe here.