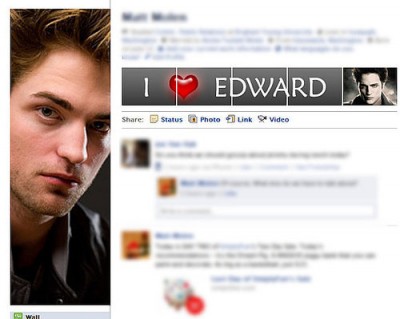 It looks like the Team Edward or Team Jacob debate has hit Facebook!  AfterTheBite.com has detailed instructions on how you can show your love for either Edward or Jacob on Facebook by doing what they are calling the "Edward profile hack" or the "Jacob profile hack".  You download the images they provide and upload them into a Facebook album.  You have to tag the photos in the order they are given to you for it to work, so be aware that it might take a little time.  It also only works if you've changed over your home page to the new layout, so if you prefer the old style this isn't for you.  But given that the Edward/Jacob battle still rages on we think there were soon be many facebook pages hacked by the Vampire or Werewolf!
Use this link for the Jacob layout!
Use this link for the Edward layout!
Thanks to Matt for the tip.