Last week we were fortunate to be able to give away some tickets to Kellan Lutz's Meskada premiere. Here is the account of Jana and Cheryl (written by Jana) who were two of our lucky winners: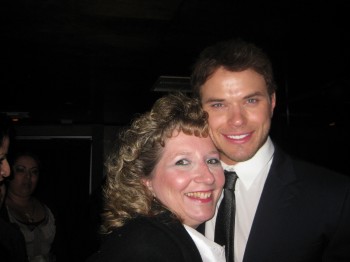 It all started last week when we say the contest to win access to the premiere of Kellan Lutz's new movie Meskada in Hollywood.  My girlfriend Cheryl and I both entered.  Next thing I know she texts me and says she has won but her husband didn't want her to drive… I immediately text back that I will rent us a car and we are going…..
Monday arrives and I go to pick up our rent a car with my husband who thinks were nuts.  As we walk in I see a Mustang sitting on the lot and ask what the up charge would be for that.  My husband says "No way are you getting a Mustang" and the associate says "even if I give it to for the same rental fee she has" and I say "I'll take it."  My husband's only comments is that he is not paying for any speeding tickets in that car!  I don't realize until I get home, go in the house, and come out with my daughter who says, "you got a convertible!" that we have the most awesome deal for $63.00 for two days.  So starts our adventure.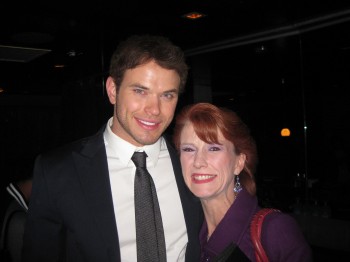 Tuesday Morning arrives and we plan to leave as soon as we get the kids to school (Much to both our husband's dismay)  While getting ready, we find out that Kellan is going to be on the Jay Leno Show later today and are bummed that we didn't know and get to go.  I went online and saw that you could still request tickets-so we both requested tickets and what do you know we both got them.  Unfortunately, they wanted you there by 2:45Pm and we didn't think we could get there in time, we had a six hour drive ahead of us . Well, we didn't make it , oh well, better planning next time!
We arrived using our GPS at 4:45pm In Hollywood and scoped out where we were suppose to be. We saw a theater at the location and went to find a place to change and get beautified.  So we used the bathroom at the Kodak Center, getting funny looks as we primped.  We took off down the street to the theater arriving at 6PM and we were told to get in the line that had started for will call tickets. We were the third ones in line and as we waited I was thinking that the crowd didn't look right, the people arriving just looked to old.  I finally said this to Cheryl and she thinks it's family that is showing up, so we wait.  Finally, we are called up to get out passes and we give the guy our names, neither of which he can find.  He then asks what our affiliation is and I say "Twilight Lexicon" and he hands us two passes.  We step back and look at the passes, then look at each other and we realize something is very wrong.  The passes say "Frankie and Johnnie" on them. Oh Crap we are at the wrong premiere! This is a Halle Berry Movie premiere and they were going to let us walk right in!  We talked to a security guy who told us the theater we were suppose to be at was 3-4 blocks down the street.  He made us promise that we wouldn't walk to the theater even though it was close and we promised.  We ran out in a panic, we were soooo late and grabbed a cab and were at the theater pretty quickly.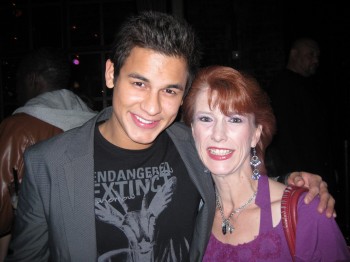 This time the girl at the door had our names on the list and upstairs we went.  A cocktail reception was being  held in the bar of the Cinespace  theater and was being hosted by YRM Magazine that had Kellan on the cover for the month of December.  Kellan and other cast members were in an area next to the bar answering questions from the press.   The crowd was an interesting mix and we spotted  Micheal Rady  who plays Jonah Miller on Melrose Place and Norman Reedus who is in Meskada with Kellan.  We had expected really big theater and probably not much chance of getting anywhere near Kellan, what we got was so much better.  This independent films premiere was small and exclusive; there was maybe 100-125 guests at it.  Still wandering around the bar, we ask a guy with a clipboard if we would get a chance to talk to Kellan?  He says, "You haven't met him yet, come this way," and he takes us into the theater and right up to where Kellan is at.  In true Kellan style we are greeted by him with a huge hug, we only speak with him a minute and we are told they want to start the movie.  He tells us to come back after the movie is over so we can chat more.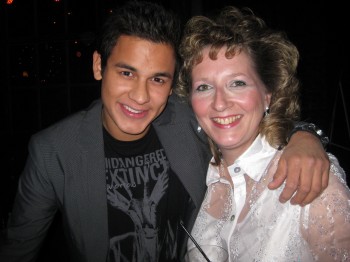 The theater area was not your traditional theater with rows of seats.  It had tables and chairs set up in the middle and booth style coaches on the sides.  Very comfortable for viewing.  Kellans character is surprising  and he portrays him very well.  The movie is very serious and sad, telling a story of a small town trauma.
When the movie is over, Cheryl and I go over to where Kellan is sitting.  He greets us gain with big hugs and we start to talk.  I ask him if he would consider signing a photograph I took at the 2009 New Moon Press Tour in San Francisco, he says absolutely and he remembers us from that event.  When I pull out the picture, he is very excited and says he loves the shot and I tell him it is everyone's  favorite and he says it is his too.  He asks if he can get a copy and I say "of Course" where do I send it to and he gives me an address to send it to.  While talking and telling him we are from Santa Cruz, he says h wants to go surfing and we tell him he should come to Santa Cruz.  He asks if the surfing is good in Santa Cruz and we say, Kellan, you obviously don't know a lot about surfing…Santa Cruz is one of the surf capitals of the world. I tell him he can go surf with my daughter, and he wants to know where she is.  Well, she is at home and what does Kellan do but call her on the cell phone right then and there making a 14 year old go over the moon with excitement!  He talks to her about surfing and telling her that she should come next time.  He was so very sweet to her and she is so happy but now her older sister is mad at me for not having Kellan call her.  What's a mother to do????
Kellan posed for pictures with us and then he signed Chery'ls Twilight Collectors Edition. Saying signed is a stretch, he colored her name in huge letters having a great deal of fun as he held the book out and observed what he was doing.  It was so funny!
They announced that an after party was going to be held at Club Voyeur.  We were wondering if we would actually get in if we went to the club.  We went downstairs and the paparazzi were in full swing clicking away at  Kellan.  We heard some of Kellan's friends and they were making plans to hit a local Taco bar on the way to the club with Kellan.  We decided we had come this far, we would go for it and go to the after party.  We boogied down to get our car and made our way across town.  After a few passes we found Club Voyeur and valet our car and went to the front of the club.  The young lady with the guest list was at the door and we were whisked right in much to our delight.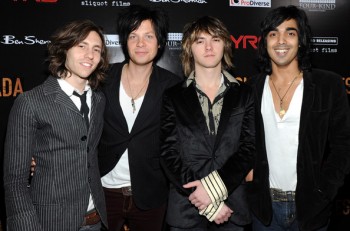 Inside the club, as suspected from the name of the club were 5 or 6 girls in a variety of outfits.  Leather shorts and vest with police hats and dark sunglasses, a little S & M style with whips dancing on walls with ropes and in glass boxes.  Fun and crazy but in good taste.  We people watched and at one point  I hear some saying "Jana" but not thinking they are talking to me since I don't know anyone here I don't look up right away.  When I do look up, I see that it is me they are calling, it is Tina Gill, a freelance photographer  I meet the first time in February 2009 at the very first Twilight  Convention in San Francisco where she took my picture at the Vampire Ball when I was in the Vampire Court.  Come to find out, she also had won tickets from Twilight Lexicon to come to the premiere.
Cheryl  and I think that we see Bronson Pelletier, but aren't sure.  We look and watch, Cheryl has a picture of her and Bronson taken in Portland (when she went on the Catherine Hardwicke director's tour), so we compare.  Finally we decide it is him so Cheryl approaches him and he remembers her from Portland.  We tell him we missed him last year at the SF Twilight Convention but enjoyed his call with Kiowa and he cracks up at that.  He says it took him a while to realize he was on speakerphone.  He tells us about a new movie he will be filming with a major male movie star and he has a really big part.(Sorry he told us the name of the male star but we both forgot- we bad!) He is very excited! He very graciously agrees to take a picture with each of us which was very sweet!  We told him we would see him again this February in SF and hope he wouldn't get held up at the last minute…..again.
We were surprised that Ashley Greene, Kellan's buddy hadn't shown up but thought maybe she wasn't in town. Just a little while later in came Ashley with Joe Jonas in tow.  She looked adorable wearing a simple sequin dress and Joe, dashing with a scarf around his neck. Cheryl went over and talked with her for a few minutes.
We continued to people watch and were approached by a group of young men who said in there cute little accent "Hi, were from London, where are you from?" They then introduced themselves as Owen and Tom.  We hung out and chatted.  Then they asked us what we did and we found out that they were in a band, the Purple Melon and I told them I'd love to shoot them if they ever came up to the Bay Area.(I'm a photographer) and we exchanged cards. They ask if we were team Kellan and I said of course, Kellan was my boy and they ask if we liked Kellan better than Rob Pattison and I said yes. Owen and Tom were appalled they said but Rob Pattison is from England but Cheryl made them happy, she told them she loved Rob. We hung out for a while and then we decided we should start back home, it was midnight.
We looked around to see if Kellan was still around and he was.  So went over to thank him and say goodbye.  Kellan was so sweet, we told him we were going to drive back.  He tried to talk us out of driving back, he really was concerned. We told him we had to get back.  He hugged each of us and kissed us and then he hugged and kissed each of us again, then blew us kisses.  How much better can it get!  What a doll.  We hit the road at midnight feeling like we had been Cinderella at the ball, it was an amazing time and we thank Twilight Lexicon for being our fairy godmother!