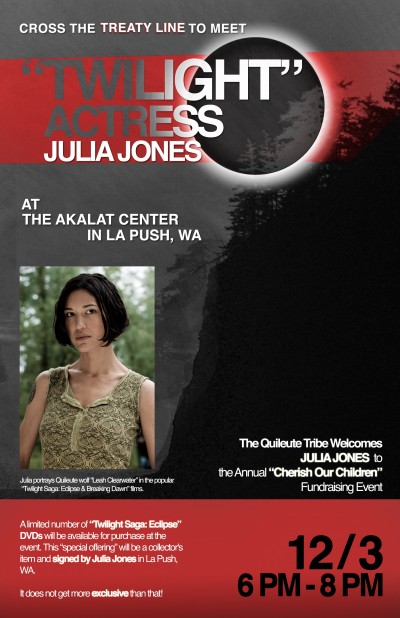 Julia Jones will be visiting La Push as part of the Quileute Nation's annual fundraiser that goes towards supporting their youth. So if you are going to be in the Forks area for the Eclipse release, consider getting your DVD at LaPush and helping out a great cause at the same time.
According to the Peninsula Daily News:
"Jones, who is making the appearance on the night of the release of the "Eclipse" DVD, will sign autographs for a fee to raise money for the charity, said tribal spokeswoman Jackie Jacobs.
Cherish Our Children, an auction to raise money to buy holiday gifts for needy children, starts at 5 p.m., and Jones will sign autographs from 6 p.m. to 8 p.m. at the A-ka-lat center in LaPush.
The charity divides money between the Quileute Housing Authority and Forks Santa's Workshop, which both give presents to children in need.
"We are thrilled that Julia Jones is joining us for the Cherish our Children event this year," the Quileute Tribal Council said in a statement.
"During this season of giving, she exemplifies the meaning of giving back, and we give thanks for her generosity . . . Quileute Tribal Council thanks Summit Entertainment and Julia Jones for truly making this a cherished 'Twilight' event," the council said."
See more details on the Peninsula Daily News.
Remember also that if you want authentic goods from the tribe, you can buy them from the online tribal shop.