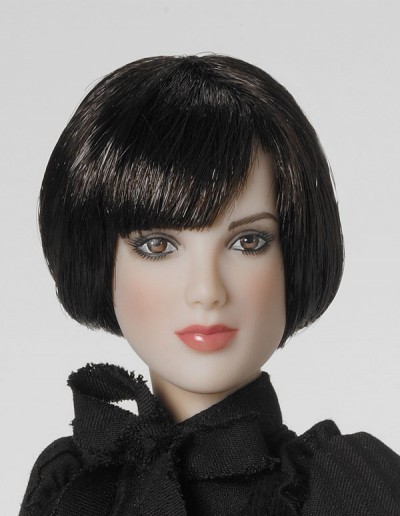 Tis the season where people start shopping! We will be coming out with our Christmas Twilight Saga buying guide later this week. We usually get bombarded at Christmas time with people emailing and asking "what do I get my daughter, girlfriend, wife, etc. This year we are going to do a list.
To kick things off we are giving away an Alice doll made by  Tonner Dolls.
The official product description reads(you can also see the full body photo here):
"Ashley Greene Head Sculpt w/ 16" Ballerina Bust Tyler Convertible Body; Amber Eyes with Wigged Hair and Cameo Skintone
ALICE CULLEN is the latest member of the CULLEN clan to join Tonner®'s line of TWILIGHT TCF™s. ALICE arrives wearing a costume reproduction from NEW MOON, and includes a striped blouse with bow tie collar, slim cut twill pants, plush corduroy vest, knit socks, and faux leather ballet flat. ALICE's CULLEN crest necklace is also included. Includes display stand."
So, if you would like a chance to get the Alice doll as your very own, just tell us in the comments why you like Alice Cullen. We will pick a random winner on Thursday at 11:59pm est, so you'll know in time for Black Friday whether you have won or not. As with all of our giveaways where we are in charge of mailing the items out, you can be any place in the world to win.  So it doesn't matter if you live in Topeka or Kuala Lumpur, we will find a way to ship the prize to you.
A huge thank you to Tonner Dolls for supplying the doll for the giveaway! You can see all their Twilight dolls including Bella, Edward, Jacob (award winner), Victoria, James, Laurent here