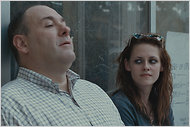 In talking with the NY Times, James Gandolfini, gave a great comment on the Twilight Series. Jim for years played the iconic Tony Soprano on the Sopranos.  Every time he did a new project, inevitably the interviewer would ask a Sopranos question. In a way it kind of parallels how no matter what other project they are doing the Twilight cast members always get asked Twilight questions. Not only  that, their co-stars get asked Twilight questions.  Well Jim in his typical no BS style answered the Twilight question proving that sometimes Twilight just doesn't matter, and it's OK not to be on the Twilight bandwagon (he stars with Kristen Stewart in Welcome to the Rileys)
"Q. So, are you a big fan of "Twilight"?
A. Actually I've never seen it.
Q. Did you tell Kristen that?
A. Well, she didn't ask. I don't think she watched "Sopranos" much."
See more on the New York Times.
It's actually kind of refreshing not to see someone just gratuitously become a fan with no other connection. what do you think?