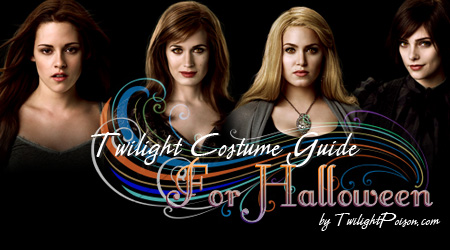 Our friends over at Twilight Poison have updated their Twilight costume guide to reflect both New Moon and Eclipse. It's a really in depth look at how to achieve the right look down to the details. They have also added a new section on how to achieve an actor's look from a specific awards show.
Check out the character costume list here.
Check out their actor costume guide here complete with how to make your very own MTV Golden Popcorn prop!
They also have some terrific ideas on make-up and how to make yourself over in Photoshop as a vampire. As usual their tips are easy to follow and come with step-by-step instructions with illustrations so you know that you are on the right track!
While you are in full Halloween prep mode, don't forget to do up your pumpkin Twilight style. You can download the stencils anywhere in the world, and since it is a download file and not a one shot paper item you can keep it for future projects. If you accidentally rip it, not worries, just print a new one.
So good luck shopping and carving this weekend!