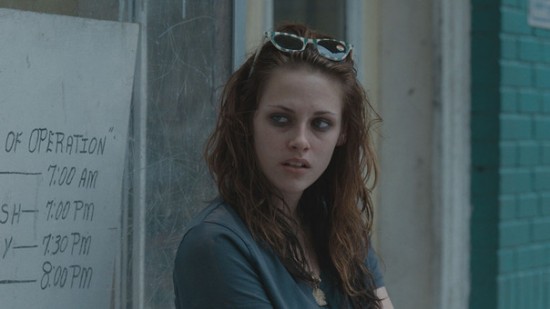 HitFix has an article up on twenty or so actresses they think might score and Oscar nod this year. Kristen Stewart made the list for her performance in Welcome to the Rileys. They list the pros and cons of each actress they list.
"Pro: She gives a strong and sympathetic performance as a young hooker who agrees to try and turn her life around under the guidance of a visiting salesman (James Gandolfini).  She also gave a pretty great turn as Joan Jett in "The Runaways" earlier this year and has an impressive resume that has built up goodwill with roles in "Into the Wild," "The Yellow Handkerchief" and "Adventureland."
Con: The problem is the movie's distributor may not send out screeners (a big need for this one) and there's that "Twilight Saga" elephant in the room.  She might need that series to be over before she's taken seriously again by the industry."
There's some really tough competition on the list with multiple Oscar winners and nominees like Amy Adams, Helena Bonham-Carter, Diane Weist and Sissy Spacek all noted as possible contenders.  Our gut feeling is that Kristen has a real shot of making the nomination list, but actually winning may prove problematic given the probable nomination of Helena Bonham-Carter and the massive amount of Oscar buzz the movie The King's Speech is getting.
Check out all the contenders on HitFix, it's a pretty impressive list. Melissa Leo, Kristen's co-star in Welcome to the Rileys, is also on it, but for a different movie.
Laura was able to see a pre-screening of Welcome to the Rileys last night. We can't post a review yet because it's under embargo (we'd love to talk about it because we have lots of good things to say, but that's the way it goes), but to comment on the HitFix article we can state that we agree completely with the Hit Fix assessment of the pro's.