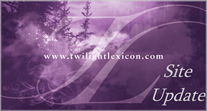 About a month ago we put out a request for help updating the character bios section of the Lexicon.  We had so many great submissions that it was difficult to decide on just one person.  Given that my own time is limited currently with my mother's health issues, we decided on two fantastic members of the site to fill out our team and bring the site up to date.
Our first choice was a long time member that many of you may know from her many posts on the message boards – Lady Di.  She has been fast at work on all the Quileute bios, many of which have been updated and are ready to be viewed.  Our second choice is a member that hasn't been as vocal on the site but who we have met over and over again at the various conventions.  Anny was at our very first Creation Convention in Atlanta, but we've also seen her in LA, Portland, and I believe Newark.  She can correct me if I'm wrong!  Anny has been working on the Denali Coven as well as some humans.  We will see her work in our next update.
For now you can enjoy the updated bios of: Leah Clearwater, Sue Clearwater, Harry Clearwater, Old Quil, Collin, Claire, Kim, as well as two new bios for Rachel and Rebecca Black!