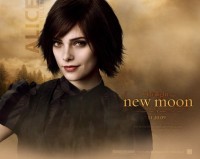 Alloy magazine has done two recent features on celebrities and movie characters people would love to have as roommates.  Alice Cullen made the list as one of the characters and Kristen Stewart made the list as one of the celebrities.
"In The Twilight Saga, Alice goes out of her way to make sure Bella is as happy as can be at all times. She showers her with gifts and loves to use Bella as her personal Barbie doll. We'd love to tap into the endless Cullen cashflow for a little free swag, wouldn't you?"
See the rest of the characters here.