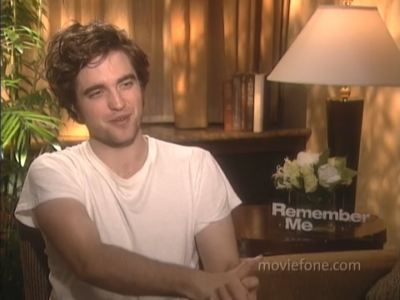 Spreadit TV posted the below description of an upcoming episode of Entourage. They seem to be the only site with this information. It's not reflected on any other source like TV Guide that typically gets the heads up on show content. So, we're not really sure what to make of this. Possibly they accidentally released a press release early?  The HBO official site for Entourage has nothing on this.
"Mrs. Ari is still fuming over Ari's angry meltdown the night before, Ari tries desperately to keep her surprise party on track. The guys attempt to stage an intervention for Vince, who has gone off the deep end. Turtle scrambles to find investors to save the tequila business. Eric receives an unexpected request from Terrance McQuewick, which leads him to consider Scott's business proposal. Robert Pattinson guest stars as Ari's most difficult client ever."
For those of you unfamiliar with the show, Wikipedia has a pretty good summary:
"Entourage is an American comedy-drama television series that premiered on HBO on July 18, 2004. The series was created and is largely written by Doug Ellin and chronicles the acting career of Vincent Chase, a young A-list movie star, and his childhood friends from Queens, New York City, as they navigate the unfamiliar terrain of Hollywood, California.
Mark Wahlberg and Stephen Levinson serve as the show's executive producers, and its premise is loosely based on Wahlberg's experiences as an up-and-coming film star. The series deals with themes of male friendship and modern-day situations in real-life Hollywood. The show is famously known for its array of guest stars, usually featuring at least two celebrities per episode. It is also heavily credited on the ability of its leading actors to form the male bond of friendship, which is a leading theme on the show. For this reason, the main actors chosen had to be of New York origin in order to bring the utmost authenticity to the bonds formed among the characters.
On August 7, 2010 HBO announced that Entourage would return in the Summer of 2011 for a shortened season, which will be the show's last. Although the number of episodes was not officially disclosed, the final season will likely contain six episodes. A film is also planned after the series ends."
The show is highly critically acclaimed winning and nominated for multiple Golden Globes and Emmy Awards each year. If they were to get Robert Pattinson it would be quite a huge thing for both Rob and the show. Big names, such as James Cameron have become the hallmark of Entourage.
Ty to Karen for the heads up.
In the time it took me to write the article, Gossip Cop just debunked the entire story.