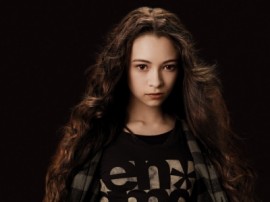 Rumor broke yesterday of a possible Bree Tanner movie. Nothing like trying to verify a rumor on a major holiday weekend! We are trying to see if the story has any validity; however, if the property is in hot negotiation, Summit may not want to talk about it, so stand by, we'll do the best we can on this one. Casting talk would be way premature on a project that doesn't have a script, screen writer, or director; however, the other material may have some credibility.
The Australian site What's Playing broke the news. They generally have a reliable track record and aren't prone to gossip and unfounded rumor. So take that info for what it's worth. Here's part of what they had to say:
"Consider this nothing more than a rumour – if only because our source, though seemingly on the level and able to provide sufficient information to pass the BS detector, is a first-time scooper – but alas, it's too good not to print, so we are, but with that disclaimer. And, quite frankly, there's no real reason why this wouldn't be true.
According to the tipster, who works in licensing, Stephenie Meyer's book The Short Second Life of Bree Tanner – released in March – is headed to the big screen. Tanner, of course, is a character that popped up ever-so-briefly in this year's The Twilight Saga : Eclipse."
See more on What's Playing.
Oddly enough, we asked Stephenie Meyer about the possibility of a Bree Tanner movie on the Eclipse Black Carpet. (No we had no inside info or agenda, it was just a curiosity question.) Stephenie, as you can see in the video, didn't discount the idea or state that she was adverse to it. Producer Wyck Godfrey also stated at that time, that he and Stephenie had several irons in the fire. Maybe this was one of them? Check out the video and give us your opinion. What do you think about a Bree Movie?
UPDATE: We checked with Summit regarding the accuracy of the story. An official representative stated, "Everything found online about this topic is at this point pure speculation. "