Our friends over at the Quileute Wolfpack site (which by the way is an awesome site for anyone who is Team Jacob focused!) were in Las Vegas to cover an in-store appearance by Alex Meraz, Tinsel Korey, and Julia Jones.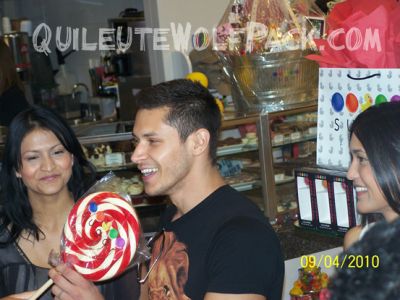 Here's part of the account:
"I had rushed to Planet Hollywood at a little past 2:00pm, thinking I was going to be really late for the Sugar Factory appearance, and it didn:t help very much that I had my 16-month old in tow. I found "Princess Parking" on the 4th floor and expertly unfolded the stroller. So there I was, rushing through the Miracle Mile Shopping area, pushing the stroller like a professional F-1 racer through the crowds. But when I got to the Sugar Factory at a little past 2:30pm, I discovered that there was still an awaiting crowd.
I leisurely got tothe back of the make-shift line, and as unsuspecting tourists walked by, they all asked the same question – "What's this line for?" to which I answered, "Some of the actors from Twilight are here ."
Reactions varied from "OMG! I have to take pics!" to "Twilight? Meh" to "What's Twilight?" (Seriously? Are you just visiting our planet?)"
See more on the Quileute Wolfpack site!