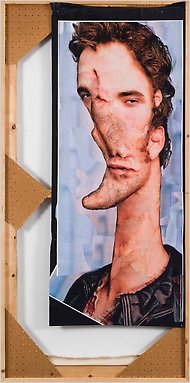 According to the New York Times,  a portrait of Robert Pattinson done in a mosaic style is being featured at a New York art show. The piece is entitled Twilight Feelings.
"Is collage inherently subversive? This strenuously lively group show, organized by Paper magazine's Carlo McCormick, suggests so.
The mischievous tone is set by Mark Flood's "Twilight Feelings" (2010), a distorted, mosaic-style portrait of the vampire-franchise heartthrob Robert Pattinson. Using multiple copies of the same photograph, Mr. Flood gives the actor a giraffelike neck and sharply protruding chin."
The show is at 527 West 23rd Street in Chelsea Through Aug. 27
See more at the New York Times.
There is no word in the article if the portrait is for sale, or the exact meaning of the artist. What do you think about the work?