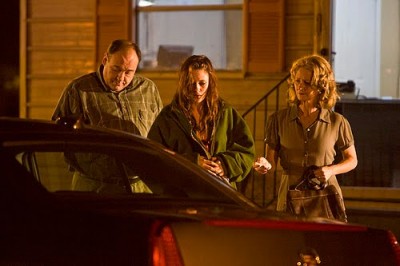 Kristen Stewart filmed Welcome to the Rileys (a film that is getting lots of positive buzz from the critics that saw it at various film festivals) in between New Moon and Eclipse. The costume designer, Kim Bowen, talks about working with the film's stars. She seems to echo what others have said about Kristen on the Twilight films, that she is very concerned with doing the right thing for the character and that she cares about her projects.
"Kristen Stewart's investment in the character:
"Kristen is a very invested actress. She has been doing the Twilight films, and it was very important to her to play this character with a real dose of reality. I don't think she wanted anything frivolous out of it, I don't think she wanted to be glamorous. That wasn't important to her, she wanted it to be real."
"Kristen is a very courageous actress. She wanted to be fully that character of Mallory. She didn't care about looking beautiful; in fact she thought quite the opposite. She had the make-up artist cover her with bruises and cold sores. Kristen looked a wreck half the time. She didn't have any desire to be physically perfect."
See a larger write up and listen to the podcast at Inside the Backlot.