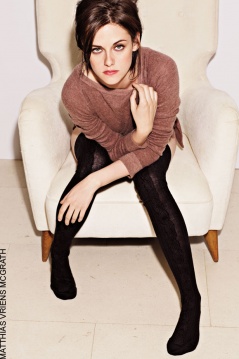 Kristen Stewart talked to the UK's Daily Mail to promote The Runaways, which just came out on DVD. She talks about her Twilight experience and media perception. The way the reporter describes Kristen's reaction is the one that we have always personally had with her, that she trips over her words because she is so wrapped up in really wanting to say what she means the right way, not that she is arrogant or doesn't care.
"It was tough because I only had a really tiny window of free time, but I wanted to make the movie. And I didn't want to get any older because I'm already older than Joan was when she was in the Runaways," says Stewart. "I just crammed it in, and hoped that it would work. And it did. It's nice to switch to movies like this between Twilights, but I'm excited to go and do the next couple of years of Bella's life."
She arrives for our interview looking elegantly sophisticated in a black mini-dress with her dark hair pulled up behind her head in a bun. Yet she confesses: "When I dress up, I have to have a lot of help. I was in a T-shirt until a few minutes ago."
Like the teenage Joan Jett, Stewart has a sullen, almost surly look, which proves to be misleading, because she willingly attempts to answer questions, thinking carefully before she speaks but sometimes finding herself unable to articulate her thoughts.
"It's impossible to always get across what I'm trying to say, but, if I just stay honest, then I'm not going to look back on any of these interviews and wonder what I was trying to do or be," she says."
See more in the Daily Mail. Kristen is currently filming On the Road in Canada