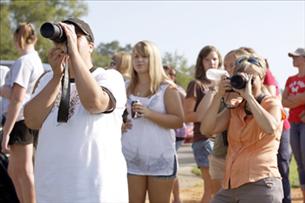 Much like what happened in Pittsburgh a couple of weeks ago, Twilight fans came to Tennessee hoping to catch a glimpse of Robert Pattinson as his filming on Water for Elephants moved from the Los Angeles area to Tennessee:
"Cheryl Hagan spent 10 hours in the car Thursday, driving up from Orlando with her 12-year-old daughter just for the chance to get close to a vampire.
Her trip to West Cove Road in Walker County, Ga., where "Twilight" star Robert Pattinson is filming his new movie, "Water for Elephants," is her first visit to a movie set. But she has attended 11 "Twilight" conventions, including one in Boston two weeks ago.
"We drove to Boston, so 10 hours is nothing," she said Friday morning. "I know that I'm obsessed, and I'm OK with that."
See more including video  at The Times Free Press