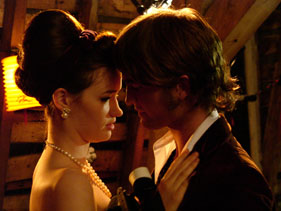 Back in 2006 Robert Pattinson did a short film entitled The Summer House. Unlike the quirky How to Be, or the decidedly art house Little Ashes this is actually a pretty straight forward performance of a sort of romance.
According to MTV's Hollywood Crush:
"Gili [the director] felt the character of Richard was a struggle for Rob, because he had to play someone so different from himself. "He's quite a gentle person. He's a really nice person. And he has to play quite a not very nice character, and I think he struggled with that," Gili said. "He wasn't playing a role that he was particularly comfortable with, but he still manages to have a real presence: brooding, slightly menacing. You're never quite sure whether he wants her because he wants to have sex with her or because he loves her. And I think he delivers that brilliantly."
After watching the short, we have to agree with her on Rob's performance, and "Twilight" fans will see a little bit of what would become Edward Cullen in Rob's portrayal of Richard…
"The Summer House" had its premiere at the Toronto Film Festival earlier this year, and is going to be offered for $1.99 on iTunes starting July 13 by Shorts International. It will next be shown at the Rushes Soho Short Film Festival later this month."
With the price being $1.99, with the promise of a glimpse at some early Edward Cullen inspiration, and with 10 minutes in length that won't kill anyone's memory on ITouch, IPhone, or IPod, this could be the portable Rob Pattinson item of the summer.