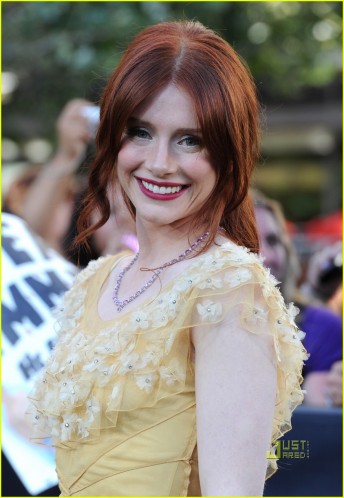 The UK's Telegraph has a really cute interview with Bryce Dallas Howard. Her dad may be a famous directors, but she didn't grow up spoiled.
"Waiting for Bryce Dallas Howard at an Italian café in West Hollywood, I think back to a chance meeting, 14 years ago.
The actress happened to be sitting across the aisle from me and my then two-year-old daughter on what seemed like an interminable, turbulent flight from Los Angeles to New York.
The red-headed 15-year-old was travelling with her three younger siblings and politely offered to entertain my toddler.
I soon discovered that this engaging teenager was the daughter of the Oscar-winning director Ron Howard, who is known for decades of formidable hits – A Beautiful Mind, Apollo 13, The Da Vinci Code, Frost/Nixon – but who is probably best remembered as the freckled Richie Cunningham from Happy Days.
The filmmaker and his wife, Cheryl, were at the front of the plane in first class, while the children – like my daughter and I – were in economy.
'They would never throw the kids in first class. We knew we were lucky just to be on a plane,' says Howard laughing, when we discuss the episode later."