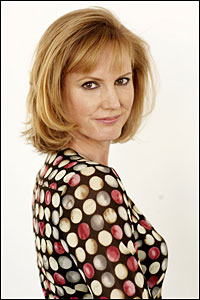 This is probably the best answer to a reporter that I have ever seen regarding the books tyring to be some type of religious message or conversion text.
Do you find it challenging to deal with the religious overtones in the books?
What's always kind of amazed me is that Stephenie and I probably are polar opposites in terms of our political and spiritual beliefs. I'm raised in a hot tub from Marin County, [Calif.]. I couldn't be further left. She's a very religious Mormon. In truth, we've never talked politics. We've never talked religion. We just haven't. It hasn't come up. The only thing that comes up is that I swear like a truck driver and she doesn't. And I drink and she doesn't drink. But she doesn't ever judge me for either of those things. It's important for me that I not violate my own beliefs and I won't write something that does. It was interesting that within all of these movies, certainly within Breaking Dawn, you can peel away some of the stuff that is more to the right and some of the anti-choice stuff and there is a core, real human experience. You don't have to go there. You can tell the story without doing that. That was important to me, but I had to respect her beliefs as well. I can't violate her beliefs. It's kinda where the blue and the red come together. At the core of it, it's about a woman choosing to have a child. That is as pro-choice as you get. That doesn't violate anything that Stephenie believes in, and that doesn't violate the story. It's about finding the common ground. What's really important: These are Twilight movies. This is entertainment. It is not the forum to be making political commentary. It's just not. Nobody wants to turn this into a referendum on abortion. It's inappropriate.
See more on EW. Melissa is also trying to get more Facebook followers.