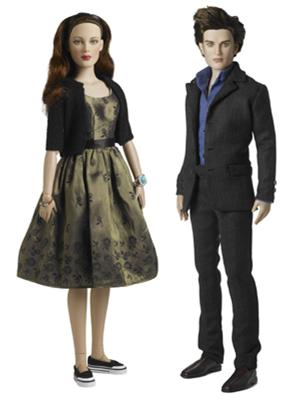 According to the Philadelphia Inquirer:
"He doesn't sparkle in the sunlight – he's plastic. He can't hunt for prey – he's immobile. And he's only 17 inches tall – not exactly a towering Byronic presence.
Still, for some fans of Stephenie Meyer's immensely popular Twilight series, the Edward Cullen doll by Tonner is the next best thing to the books' vampiric hero.
The high-end dollmaker, known for its realistic figures based on popular movie characters, saw sales hit a record high with its first Edward doll, released in 2009.
But next month at San Diego's Comic-Con, Tonner is set to introduce another Edward – and a new Bella Swan (Edward's human girlfriend) and an Alice Cullen (Edward's vampire sister). The company also sells a Jacob (Bella's werewolf best friend) and several villains from the first Twilight book.