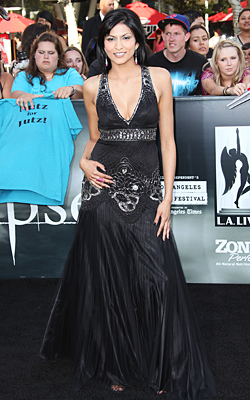 Christina Radish is now writing for Collider, and this is one of her debut interviews. As usual it doesn't ask the same old questions.
"Once you were cast, were there specific things you wanted to make sure you did with this character?
Tinsel: I just wanted to honor who Emily was. She's just a strong woman. Through my journey of playing her, I found a lot of strength, and I think that I've changed, as a female, in the way that I carry myself. To go through something traumatic, like getting your face scarred, it made me analyze vanity a lot. When you have a little pimple and you're like, "Oh, my god, there's an alien on my face!," you feel like it's magnified.
Even though she's dealing with a scar, Emily just carries on with life. It's not a big deal. While we were shooting the scene, I tried it different ways. I tried it where I was hiding my face, and Chris [Weitz] was like, "Let's try it where she doesn't care," and that's who she is. She doesn't care what anybody else thinks. She stands proud in who she is. And, I met this girl who had a huge scar on her leg from a car accident. She was talking about how, after it first happened, she would always wear long pants and cover it up. But, as she started to grow into it, she decided that that's just her now. It's just a part of who she is. She wears skirts and she shows it off now.
I just thought there was something so beautiful about that. No matter what happens to you in life, you just roll with it. And then, when we went back to shoot Eclipse, I went to Quileute and taught some acting to the kids, and just got to spend some time in the community, which was great because it gave me an idea of where Emily came from. And, I also went to the Makah Nation 'cause that's where Emily is originally from and spent time with them too. Seeing the whole spectrum of who she is as a being was cool. And, I miss it. It's beautiful. I miss the kids a lot. I miss everything about that whole entire adventure."