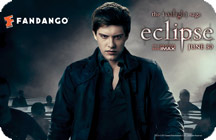 According to Fandango:
"We are definitely excited for everyone's reactions to Eclipse when it releases tomorrow night at midnight! Currently, Eclipse accounts for 82% of daily ticket sales on Fandango AND the film ranks as the company's top advance-ticket seller of the year to date!
Thank you for your support so far, but we're not done yet. We want to make sure it beats box office records!  Please be sure to remind everyone to buy their tickets in advance on Fandango.
Also, we've made our Limited Edition Eclipse gift cards available. "