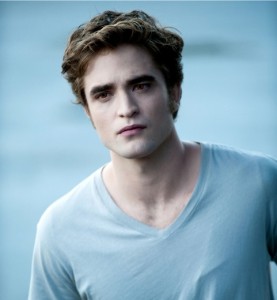 The Chronicle Herald of California seems to have gotten a lunch interview with arguabley the most sought after actor in the world right now. Go figure. But kudos to a smaller publication for getting the story.
"He arrived for coffee wearing both a baseball cap and sunglasses to cover his floppy locks and haunting good looks, and he immediately vetoed a booth hand-picked by a publicist for its privacy as too public. "Kris is better about dealing with photographers than I am," he said, referring to his equally sought after co-star, Kristen Stewart, after finally settling on an outdoor nook surrounded by tall hedges.
"I've learned to let it go a bit, but I'm still really bothered by it," he said. "The more you are exposed, the more people irrationally hate you. I think we reached a point, a peak, with New Moon where the stories became so saturated into the culture that it started to feel normal. It's like the tabloids don't know what to write anymore because they've used up all their scandals."
See more on the Chronicle Herald of California.
TY to James of the Twilight News Site for the heads up.