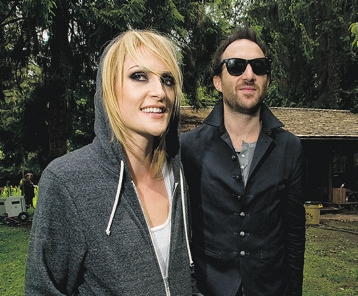 According to the Vancouver Sun:
"Following their two recent concerts at the Malkin Bowl in Stanley Park, Canadian indie rock band Metric was in North Vancouver on Tuesday, shooting the music video for the theme song for Eclipse, the third instalment [sic]in the Twilight movie series.
The video for Metric's Eclipse (All Yours) is being shot by director Brantley Gutierrez, 28, a longtime friend of the band who has also worked with the likes of Paul McCartney, Arcade Fire and Band of Horses.
The video will depict singer Emily Haines writing the lyrics to the song inside a log cabin in the woods, a reference to both the invitation sent Metric's way by score composer Howard Shore and to the films' grey, wet and gloomy locales."
See more on the Vancouver Sun.