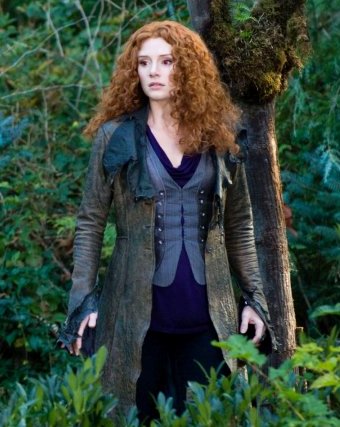 Xavier Samuel, Bryce Dallas Howard, and Dakota Fanning participated in the press roundtable.
"Q: Dakota, you are so very evil in this. What was that like?
Dakota: This is the first time I've gotten to play the same character in a different film. It was really great.  I love playing this character. It's a fun character to get to play. And, being a part of all that is Twilight is such an honor and still kind of surreal for me. I feel so lucky to be a part of it.
Q: What do you like about this character?
Dakota: She's obviously not the nicest person, but it's kind of fascinating to be able to play someone that takes pleasure in hurting people. That's a weird thing to get to do and, obviously, something I've never done before.
Q: Bryce, how is it coming into this world for the first time?
Bryce: I had not only read the books, but one of my friends actually made this little pack of Post-It notes for me with Rob's face, that said, "Live dangerously." All of my friends were like, "Why are you so  obsessed?" I was just like, "It's so dangerous. Their love is so dangerous." It was very fast and it was very sudden. To be honest, I was intimidated going into it, for a variety of reasons, but I felt so lucky to get to meet this group of people. It's a group of people that have genuine friendships and are so deeply committed to doing justice to these stories, and who always put the character and the story first. Obviously, that's translated, and I think that's why the movies are as beloved as they are."