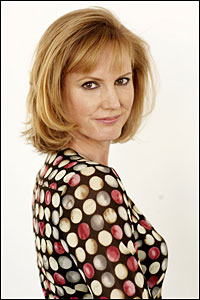 FearNet and Jen Yamato are back with another great Q & A, this time with Melissa Rosenberg.
"You've now written three full films in the franchise; how much has each script responded to critiques, from fans and/or critics, of the previous films?
I'm not sure; everybody who's involved in them, we really try to do our best to stay true to the book. There are going to be some people who don't like that and some people who do, and if you start responding to the people who don't like it you start pissing off the people who did. So you have to be true to your own creative instincts for what works and what doesn't. If people ignored the movie and boycotted it coming in and it didn't do well, then I think we would be listening. But the movies have done tremendously, so obviously somebody likes them! So we keep going with our gut.
How early on did Stephenie share with you the events and character details that made it into her new Twilight novella, The Short Second Life of Bree Tanner?
It would have been in the outline stage. I knew from the beginning that I wanted to introduce Riley; that was one of my first ideas: let's open on Riley and how he was created. Coming up with a back story for him and all of that. I think I had probably finished a draft of the outline, it was somewhere around then, and I was asking [Stephenie] about what the newborns were up to — what was going on for them while Bella's living her life, because they're living it simultaneously? And that's when she shared it with me and I was really able to fill out some of their activities and how Riley was directing them. So it was right there in the beginning."