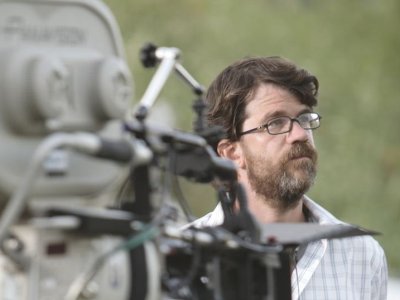 I like to picture the two-part Breaking Dawn movie as a NC-17 gynecology horror flick packed with pillow-biting sex and bellies ripped open, and guess what? I'm not alone. In fact, Twilight Saga producer Wyck Godfrey is the one who brought up David Cronenberg's Dead Ringers when we met to discuss this month's Eclipse, in which Twilight heroine Bella Swan (Kristen Stewart) finds herself torn between her vampire and werewolf beaus as an army of bloodsuckers threatens to kill everyone she loves. (He also told us he'd love to cast Stewart in his remake of the brutal French-language pic Martyrs. More on that here.)
But Godfrey knows his Twilight audience, so I asked him to set the record straight on rumors that the two-part final installment, Breaking Dawn, could go for an R-rating. Over the course of a highly entertaining discussion, he explained why 30 Days of Night director David Slade was chosen to helm Eclipse, what made Dreamgirls razzle-dazzler Bill Condon right for Breaking Dawn, and how elements of horror filmmaking factor into the vampire romance franchise.
We discussed Bella's newfound confidence in Eclipse, and how her infamous upcoming childbirth scene could possibly go down with a PG-13 rating. He mused on how 3D might be used to film part of Breaking Dawn, which begins shooting this November. He gave a compelling defense of Bella Swan's problematic attractions to both Edward and Jacob, a love triangle that reaches a boiling point in Eclipse but develops new complexity as we move into Breaking Dawn. Most importantly, Twi-hards, Wyck Godfrey promised plenty of feathers.