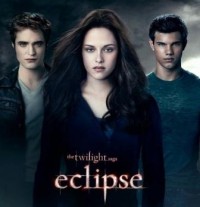 According to the Reuters wire story:
"The U.S. album chart is finally heating up after a lengthy lackluster spell, with the latest "Twilight" soundtrack set to lead a trio of notable newcomers next week.
"The Twilight Saga: Eclipse" is going up against Christina Aguilera's first studio release in nearly four years and the latest EP from the cast of the Fox TV show "Glee."
Industry prognosticators think "Eclipse" will likely debut at No. 1 on the Billboard 200, with possibly as much as 140,000 to 160,000 copies sold by week's end on June 13. The last "Twilight" release, "New Moon," was released on a Friday and sold 115,000 in just three days, debuting at No. 2. In its first full week, it sold 153,000 and moved up to No. 1.
Sources also predict that the "Glee" album, "Journey to Regionals," might sell around 110,000 to 130,000 while Aguilera's "Bionic" could move 100,000 to 120,000 copies."
See the entire Reuters news feed here.