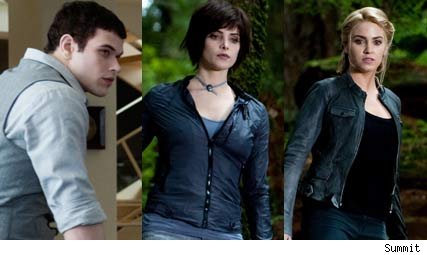 In the past we've seen Moviefone unscripted with Stephenie Meyer, Kristen Stewart, and Robert Pattinson for Twilight and with the Volturi for New Moon. Now it's Kellan, Nikki, and Ashley's turn. According to Moviefone:
"Hold out a little longer Twihards, the latest installment of 'Twilight' is almost here! 'Eclipse' swoops into theaters June 30, and its stars Kellan Lutz (Emmett Cullen), Nikki Reed (Rosalie Hale) and Ashley Greene (Alice Cullen) will be taking your questions for a new session of Unscripted.
In the newest flick, the Cullens team up with the werewolf pack to stop a newborn vampire army.
On Saturday, June 12, the Cullen kids will be stopping by our Moviefone Unscripted studio to ask each other questions submitted by you.
You can ask them anything from their favorite behind-the-scenes moment to what it was like teaming up with the werewolves. Just make sure to submit your questions by Fri., June 11 at 12PM ET"
So go to Moviefone and leave your questions there.
Edited: They are also asking Taylor Lautner, Robert Pattinson, and Kristen Stewart fan questions at the press junket, but that is not part of Unscripted.