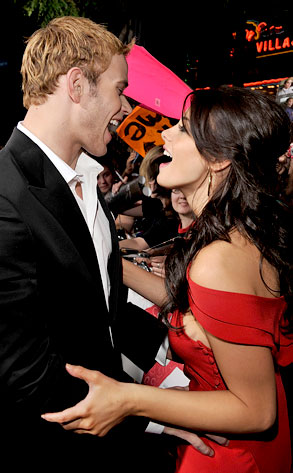 Entertainment Weekly seems to have picked up where The Hollywood Reporter left off  regarding the salary negotiations between Kellan, Ashley, and the studio.  As EW tends to be a credible industry source, so, we are reporting on and linking to their coverage.
"Greene and Lutz don't have huge roles. Greene portrays Alice Cullen, the future-seeing sister of Edward Cullen and Bella's closest friend in the Cullen clan. Lutz plays older brother Emmett Cullen and his part, so far, has been minor. Yet sources tell EW.com that the duo are asking for $4 million a piece for each of the final two films. Greene and Lutz had initially banded together with fellow co-stars Nikki Reed and Jackson Rathbone to form a united front, but sources say Reed backed down and is now close to finalizing her deal, which is said to be in the $750,000-$1 million range per film — the amount Summit initially offered the four cast members. (Rathbone's status remains unclear, and his reps had not returned a call for comment at press time. Reed's manager declined to comment.)
The studio declined to comment on the negotiations. But sources tell EW.com that Greene and Lutz believe that because the supporting actors do as much publicity as the lead actors, and have to log almost as many hours on set, they should be paid accordingly. One source involved in the negotiations says that Greene and Lutz just want to get $1 million or more."
Check out the rest of the story on EW.
We've been asked a couple of times where we stand on all of this. We have some personal thoughts, but we rather let people come to whatever conclusions they want to draw. At the end of the day, we have no insider info on what was in whose contract and what was understood. Our friend Larry411 summed it all up rather nicely when he said, "In many negotiations u have reps for each side leaking info to make the other side look bad in the eyes of the public. Happens all the time…It's simple. It's the job of the agent to get as much $$ for their client as they can. The actors often are millions of miles away emotionally and are not involved. It's the job of the studio to pay as little as possible. They meet somewhere in the middle. But it's usually behind closed doors & nobody ever knows what the agents asked for, what the studios offered, & what it ended up at…EVERY actor in EVERY film goes in asking for more than they end up getting. That's the way it works."
You can follow Larry's full tweets here.