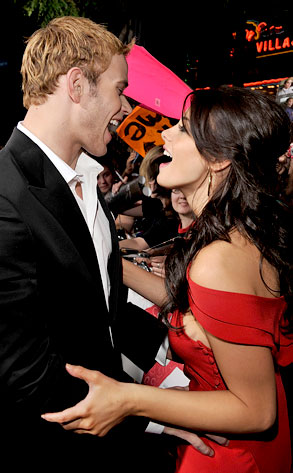 According to a report in the industry trade paper, The Hollywood Reporter (THR), Kellan Lutz and Ashley Greene have not yet signed on for Breaking Dawn.  THR goes on to state that other actors with similar sized roles such as Billy Burke and Peter Facinelli have already signed on.
"The studio is close to finalizing agreements with leads Kristen Stewart, Robert Pattinson and Taylor Lautner, all of whom will get big raises to return for a fifth installment of the vampire romance saga…But Summit is having a harder time locking in some of the franchise's secondary characters. Deals for Peter Facinelli (who plays Carlisle Cullen) and Billy Burke (Bella's father, Charlie Swan) are done, but we're told the actors who play the Cullen kids (especially Kellan Lutz and Ashley Greene) are trying to sink their teeth into bigger paydays that, at least at this point, the studio behind the billion-dollar franchise is unwilling to provide. "We may have a situation where one of them is thrown out on the street to make a point," says a source close to the dealmaking."
The Hollywood Reporter is generally accepted as a credible industry source, second only to Variety. So this is interesting information to take in.  Check out the whole article, there's a lot to absorb in there. What do you think?