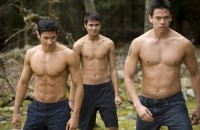 It seems the LA Times is working their way through the various groups of Twilight characters.  Today they have an interview with Chaske Spencer, Alex Meraz, and Julia Jones.  Alex Meraz said:
"The fans are going to love this film," he said. "I didn't get my chance to touch anybody in 'New Moon.' This time I go at it with Emmett [ Kellan Lutz]. I give him a nice bitch slap. But I'm in wolf form, so maybe it's a big paw slap?
Read the whole story over at the LA Times.