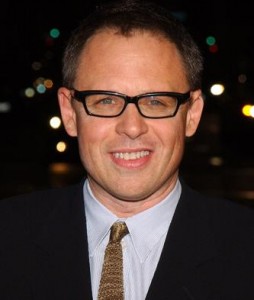 So now that Bill Condon has been announced as the director of Breaking Dawn, everyone wants to know just who is he? Given the previous three directors here's where he stacks up just on statistics:
He's the same age as Catherine Hardwicke, but has directed the same number of  films as Catherine, Chris Weitz, and David Slade combined.
Like Chris Weitz, he is both a writer and a director. Also like Chris, he was nominated for an Oscar based on his writing.  Bill was nominated an Academy Award for Adapted Screenplay for CHICAGO and he won the Academy Award for Adapted Screenplay for GODS AND MONSTERS.
– Hollywood's best and brightest (and also most difficult) have worked with Bill Condon such as Oscar nominees and winners: Ian McKellen, Liam Neeson, Brendon Fraser, Laura Linney, Tim Hutton, John Lithgow, Eddie Murphy, Jamie Foxx, Jennifer Hudson.
– Like David Slade he's done the horror thing by directing one of the Clive Barker Candyman series.
-Like Chris Weitz and Catherine Hardwicke, he respects adaptation from the originating source material, and doesn't want to lose site of the popular work that everyone fell in love with. (See the interview with Charlie Rose below.)
-Like Catherine he thrives on character driven/relationships like Dreamgirls, Gods and Monsters, and Kinsey (Check out Bill talking about Dreamgirls in the video below.)
Now here's the next item which people should be asking: who do you think he'll want to be in the Breaking Dawn Cast who he's worked with before? Hollywood, aside from talent, is all about connections, reputation, and previous experience. There are a lot of new vampires in Breaking Dawn, and we fully expect a lot of them to be cut or combined like the way Anna Kendrick's Jessica is a combination of the book's Jessica and Lauren. On the other hand, some are uncuttable due to basic plot. What leaps to mind right away is the Denali Coven in particular Irina, because without Irina going to the Volturi there's no back end of the story.
So…who appears to be  twenty-thirty something, is an UBER Twilight fan, fits the age range, and has worked with Bill Condon before. There's one name that instantly jumps up. The first person to come up with the answer that we are thinking of in our comments gets the autographed photo of their choice from our collection.