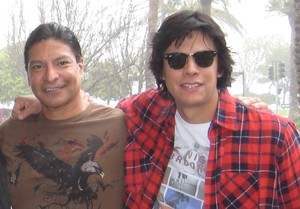 Gil Birmingham announced last night on Twitter that he is now part of Chaske's Spencer's next movie called Shouting Secrets. According to the press release from Gil's reps:
"Twilight actor Gil Birmingham has been cast opposite fellow Twilight Saga film cast member Chaske Spencer and General Hospital's Tyler Christopher in the Korinna Sehringer film "Shouting Secrets." Gil will play Cal, the father of Wesley (played by Chaske Spencer). Wesley is a successful young writer in Los Angeles who is called back to his Native American upbringing after ten years in order to visit his sick mother. Tyler will play Tushka, a half-breed Indian who, when his mother falls ill, is forced to look at his failure to breach the confines of "Shouting Secrets" is a film from the creative team, Joke Film Productions, consisting of Producer / Director, Korinna Sehringer ("Survivor") and Producer Ueli Josef Bollag."
Those of you who are up on Twilight actor history know that Gil and Chaske have worked together before outside of the Twilight Saga in the movie Skins where they also played father and son.