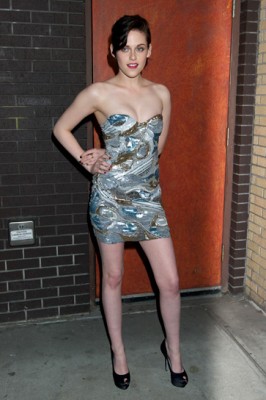 Kristen Stewart is going to be rocking the pages of a bunch of magazines in the near future.
First up is EW. They previewed a bit of what is to come in their summer issues.  They teased a bit of a Kristen interview:
"For Kristen Stewart, who reprises her role as Bella in Twilight: Eclipse, locking lips with costar Taylor Lautner (who plays her pal Jacob) felt odd—not just because she thinks of Lautner as a kid brother, but because Bella's heart truly belongs to vampire hottie Edward Cullen (Robert Pattinson). "It felt really weird kissing someone else as Bella," says Stewart. "I was like, 'What the hell are you doing?' It was a really strange experience—as it should have been."
Next, Kristen landed on Teen Vogue's best dressed list for March. Good thing she was still 19 in March.
And lastly there is a 14 page interview of Kristen coming out in Flaunt Magazine