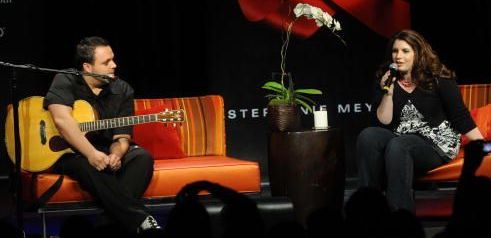 To anyone who listens to Stephenie Meyer's playlists, you realize that band  Blue October has a prominent place on them.  Justin Furstenfeld, lead singer of the band, even toured with Stephenie Meyer at the four signings she did for Breaking Dawn, (New York, Chicago, Los Angeles, Seattle) back in summer/fall 2008 called the Breaking Dawn Concert Tour. (See photo above via LIFE and the video below)
Justin has made no secret of his life-long battle with depression, and he sat down with Blast magazine(the first interview in awhile)  now that he is back from a publicized stint in rehab and ready to tour again (notably with an upcoming concert at The House of Blues). He talked no-holes-barred about a number of things, Stephenie Meyer included,
According to Blast:
"Furstenfeld did just that during our conversation[be unafraid to talk about elephants in the room] — he talked about his love for "Twilight" author Stephenie Meyer and his disdain for her representation*. Rumors circulated last year that Blue October, who toured with Meyer, would have a song on one of the Twilight soundtracks. But it never came to pass, and the reasons behind it remained a mystery.
"Me and Stephenie Meyer are great friends," Furstenfeld said. "I hate her camp, but I love her. Stephenie Meyer had the balls to take me to dinner…she said, 'I wanna put your songs in my movies…' and I was like, 'Wow. That's my dream — let's do it.' First movie comes out, no song. Second movie comes out, no song. Her management was like, 'Everything we told you was a lie.'"
See the rest on Blast.
Would you have wanted Blue October music on the Twilight movie soundtracks?
*Note: It is unclear to which representative(s) specifically Justin is referencing: Summit, Catherine Hardwicke, Chris Weitz, Alexandra Patsavas,  Little Brown , or someone else entirely..