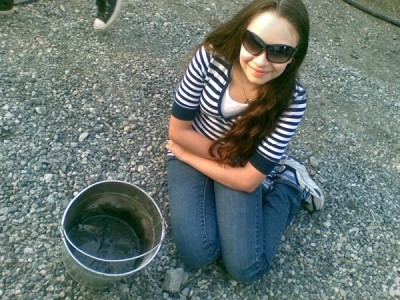 Aside from today's press release ( see the entry below) announcing that there would be a novella covering the story of Bree (now Bree Tanner, she has a last name…who knew!) the newborn from Eclipse, Stephenie has provided a TON of extra details not covered in the press release on her website. Highlights below, but get over to StephenieMeyer.com to read the whole thing.
The novella started as a writing exercise back when Eclipse was being edited
Originally it was intended for the Official Guide, but it ended up as 200 pages and that just wasn't going to work size-wise
There will be further word on the Official Guide by the end of the year
Melissa Rosenberg, David Slade, and Jodelle Ferland got to peek at Bree's story so aspects of it could be included in the Eclipse movie.
Jodelle had to burn her copy after reading it for security (see picture).
The novel will be available in both a free form online at the website BreeTanner.com and as a hard cover book with$1.00 of the proceeds from each book going to the American Red Cross to assist aiding the earthquake victims of Chile and Haiti.
And speaking as fan who operate this fansite, Alphie and Pel think they can safely speak for the fandom when we say
WOO HOO!
THANK YOU STEPHENIE!