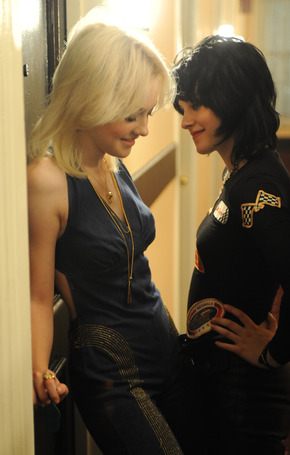 It's funny how fast things get judged. There are various reports out there comparing The Runaways' opening weekend to Remember Me's opening weekend. Unfortunately they seem to be over looking several key factors.
1.  The Runaways is only open in limited release. There are many cities that won't get it until April.
2. On Friday, Twilight fans went to DVD release parties then played the DVD, slept in and then did it again. On Sunday they did everything else that they should have done the previous two days. They'll see the flim next weekend.
3. The film is rated R which is going to cut into a chunk of the Twilight audience, not all of it, but a chunk of it.
In any case the film seems to be meeting with wide critical appeal from fans and critics. Let's see what happens when it goes into wide release.
Kristen and Dakota also gave an interview to LAish. Check part of it out below.
"LAist: One of the first things you did to get into character was cut your hair off.
Kristen: I needed to feel sweat dripping down my face. I would have felt like a fraud if I had a wig on. I've worn wigs in the past and they can look great. A lot of actresses won't work without them. Dakota's wig looked amazing, she worked really well with it. With the wardrobe and the hair it slowly becomes like a reality that you can believe. It can feel like this huge job, like, "How am I ever going to approach this?" And then you get on set and it all comes together. I can't really bring myself to do anything until I'm on set. We didn't see her do "Cherry Bomb" until we shot it. We were all floored. It was so cool.
LAist: Did you guys watch old videos of the band performing to prepare for your roles? I know I went home and watched them on YouTube after seeing the movie.
Dakota: You compared them, ooh.
Kristen: Yeah… you can do that…
LAist: No, you guys did such a good job.
Dakota: Yeah, there's a lot of footage of them performing. When I first read the script I wasn't familiar with who they were and who Cherie was. I had heard of Joan Jett and was familiar with her music, but not really "The Runaways." So, I looked up their old videos and pictures of them and when I saw her perform "Cherry Bomb" I knew that I really wanted to do that."